Looking forward to the 2020 NFL Draft, it is expected that the wide receiver class coming out will be just as good, if not better, than the 2014 Draft (OBJ, Mike Evans, Jarvis Landry, Davante Adams, Allen Robinson, Brandin Cooks). Names are going to be left off this list that I wish wouldn't be, however, these ten are sure talent. Furthermore, I think most of these guys are going to be exceptional talents at the next level. The craziest thing is that two receivers from both Alabama and Clemson made this list, and a third from Alabama was just shy of cracking my top ten. Let's get into it.
1. Jerry Jeudy, Alabama
via RollTide.com
Jerry Jeudy is now a household name across the nation, being praised by many college football experts. NFL scouts are looking at Jeudy as a possible OBJ type of player. If you turn on Jeudy's tape, every play gets better and better. His route-running is Pro-Bowl caliber, which coincides with his catching ability. Jeudy beats defenders down the field, and if defenders are able to keep up, he is still catching the ball. The dynamic between Tua and Jeudy is the best in college football. In 2018, Jeudy racked up over 1,300 yards with 14 touchdowns. With the abundance of talent down in Tuscaloosa, I don't expect Jeudy to have an astronomical season on the stat sheet, but he is going to be fun to watch.
2. Laviska Shenault Jr., Colorado

via Sports Illustrated
Laviska Shenault is my favorite receiver as of right now. Last year it was N'Keal Harry, who I see the same resemblance of play-making ability. Laviska is a big body that can run, catch, and score. What more could you possibly ask for? In 2018, Shenault caught 86 passes for 1,011 yards and 6 touchdowns. Along with that, he had 17 rushes for 115 yards and 5 touchdowns. He is Colorado's heart and soul, and I'm excited to see what he brings into the 2019 season.
3. Rondale Moore, Purdue
via PurdueSports.com
If you haven't heard of this kid, do a quick search. He was the freshman sensation last year that torched Ohio State. In fact, go back and watch his film from that game. Similarly to Shenault, Moore is Purdue's offense. He is not as big as Shenault, but he plays similarly. In his freshman season, Moore caught 114 passes for 1,258 yards and 12 touchdowns. He was also utilized in Purdue's run game, having 21 carries for 213 yards and 2 touchdowns. We still have two seasons of Moore, and I expect Moore to be at the top of my list next year.
4. CeeDee Lamb, Oklahoma
via Alonzo Adams-USA TODAY Sports
Last year we had Marquise "Hollywood" Brown, this year we have CeeDee "Showtime" Lamb. With no Kyler Murray, Lamb is still in great shape with former Alabama QB Jalen Hurts leading Oklahoma's offense. Lamb is a more intriguing prospect than Brown in my opinion due to his size and speed. Also, let's not forget his catch radius. If Hurts can throw anywhere around Lamb, he is catching the ball, no question.
5. Tee Higgins, Clemson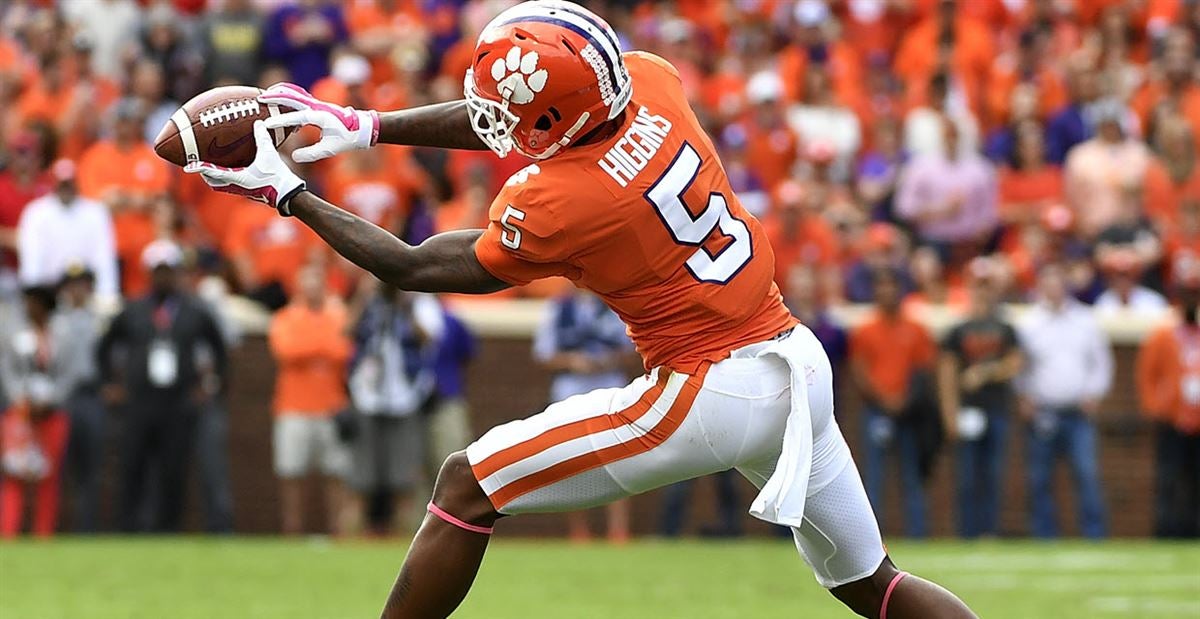 via Mike Comer/Getty Images
The first of the Clemson dynamic duo, Tee Higgins is Trevor Lawrence's sure target. He is similar to Lamb in the fact that just throw the ball in his general area, and he will find a way to make the catch. Not to mention, Higgins is 6'4. If Lawrence throws the ball up, Higgins is jumping over the defender to make the catch, as he did plenty of times in the 2018 season. It's going to be interesting to watch this Clemson team with the abundance of talent they have on that offense.
6. Tylan Wallace, Oklahoma State
via Brian Bahr/Getty Images
Tylan Wallace attracted much attention last year after decimating defenses with his ability to track down the long ball. With over 1,400 yards last season, I expect Wallace to cement himself as a top 5 receiver in the nation this upcoming season. His ability to beat defenders is almost second to none. Last season, Wallace was just shy of 1,500 receiving yards with only 86 catches. He averages over 17 yards a catch, absolute insanity.
7. Justyn Ross, Clemson
via Sports Illustrated
Speed. That's what I get when I watch Justyn Ross. He is the perfect duo to match with Higgins for Trevor Lawrence. After beating the corner down the sideline countless times, Ross is able to run a hard comeback, use his agility to make the corner miss him, and outrun any defender around him. Some argue that Ross is a better receiver than Higgins, so I'm keeping a close eye on the two heading into next season.
8. Henry Ruggs III, Alabama
via RollTide.com
Look, I know Eric Waddle can be put here, but Henry Ruggs III has the best hands in college football. Watching him catch the football is a beautiful sight. The process of him making a catch is so fluid, it's satisfying to watch with Tua throwing his way. This Alabama receiving group may go down as one of the best ever.
9. K.J. Hamler, Penn State
via Mark Selders, Penn State Athletics
K.J. Hamler is Penn State's new play-maker. First it was Saquon Barkley, then Miles Sanders, now it's the K.J. Hamler show. Even last year, some argued that Hamler out shined Sanders. He plays all around the offense, from the X to the Z to the H. He can line up in the backfield, he can motion across the line, he can really do it all. Hell, he even returns kicks for Penn State. Entering the 2019 season, eyes are on Penn State to see what they can do to compete in the Big-10 East, and their leader is K.J. Hamler.
10. Jalen Reagor, TCU
via TCU Athletics
Jalen Reagor is now starting to get the recognition he deserves. He's quick, fluid, and shifty. Once he gets into open space, good riddance. Expect Reagor to shoot up draft boards once the season gets under way, because he is a big time deep threat for TCU. Me saying big time doesn't really do it justice. Reagor is reported to run a 4.29 40, and honestly from his film, it shows. He gets to top speed quickly, and there is no catching him.
Honorable Mention: Amon-Ra St. Brown, USC; Jaylen Waddle, Alabama; Nico Collins, Michigan; Collin Johnson, Texas; Justin Jefferson, Texas